Monster Truck Throwdown Coming July 22-23

Delaware Speedway is excited to announce that for the first time ever Monster Truck Throwdown will invade the facility on July 22nd and 23rd for two massive shows. Featuring some of the world's biggest names in the Monster Truck industry, fans will see a spectacle of high flying, car crushing, ear ringing monster mayhem. Featuring 6 top machines and drivers including Bigfoot, 2 time world Monster Truck freestyle champion team Avenger, Brutus, 2015 world Monster Truck freestyle champion team Overkill Evolution, Black Stallion, and local talent Bucking Bronco.
Monster Truck Throwdown is a leader in the industry and specializes in outdoor events across Canada and the United States. With an elite lineup of trucks and drivers, they specialize in bringing the exciting thrills and excitement of Monster Trucks to audiences with first class professionalism, top notch performers, and action packed events that create lasting memories.The speed, style and destruction of Monster Truck Throwdown is enjoyed by all ages!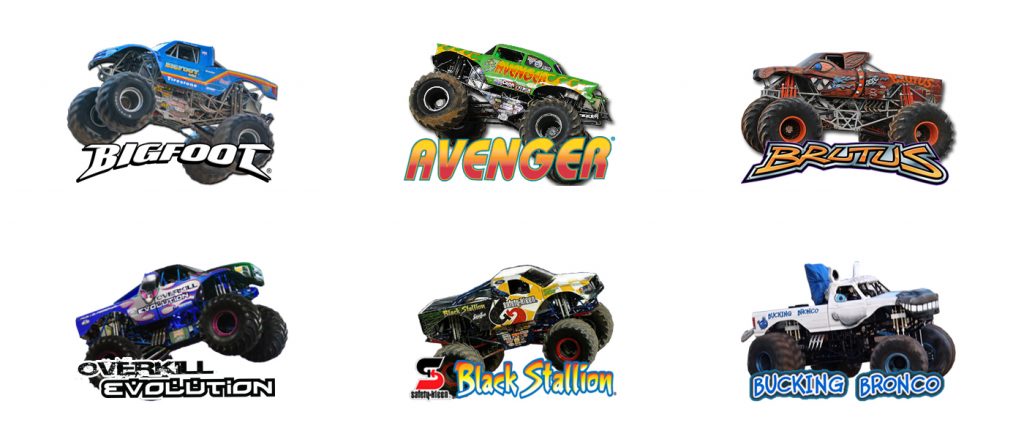 Delaware Speedway will host back-to-back days of Monster Truck Throwdown with 2 separate shows. The opening show will take place on Saturday, July 22nd at 7:00pm. The 2nd and final show of the weekend will take place on Sunday, July 23rd at 3:00pm. Fans will be given unparalleled access to the the superstars of Monster Truck Throwdown at the Pit Party, which takes place 2 hours before each show. Before each event the Pit Party allows fans the chance to see the trucks up close and meet their favourite drivers for autographs and photos. Fans may also get the chance to take a ride on a specially built monster ride truck!
In addition to the thrills of Monster Trucks, fans will also be treated to a display of skill and guts by the stars of the Backflippin' Freestyle Motocross where dare devils will take to the sky on their tuned motocross bikes, performing various stunts.
Each Monster Truck Throwdown event features a variety of competitions to showcase both the driver and truck abilities. Side by side racing puts drivers against one another to see who can complete the course the fastest in a bracket competition to determine an overall winner. Wheelie competitions are where drivers do their best to stand their trucks completely vertical and perform the best wheelie possible. Donut competitions feature drivers putting their big motors to the test as they try to get their trucks to spin around into a donut and see just how far they can push it. Finally there's freestyle where drivers get to free reign of the track to pull off the wildest stunts possible with big air, donuts, wheelies and more!
With a full card of weekly racing on the Friday night including the Super Stocks, Trucks and Bone Stocks, the weekend will now become the only 3 day weekend on the packed 2017 schedule. This event adds to a jam packed 2017 schedule for Delaware Speedway that sees many top touring series, such as the return of the NASCAR Pinty's Series, as well as a full lineup of weekly racing. Ticket and seating information will be available soon.